Styled is powered by Vocal creators. You support
Rachel Blanchard
by reading, sharing and tipping stories...
more
Styled is powered by Vocal.
Vocal is a platform that provides storytelling tools and engaged communities for writers, musicians, filmmakers, podcasters, and other creators to get discovered and fund their creativity.
How does Vocal work?
Creators share their stories on Vocal's communities. In return, creators earn money when they are tipped and when their stories are read.
How do I join Vocal?
Vocal welcomes creators of all shapes and sizes. Join for free and start creating.
To learn more about Vocal, visit our resources.
Show less
Must Have Summer Sandals in 2018
How come we're shopping for summer sandals in 2018 and it's STILL so hard to find sandals that deliver in both comfort and style? Thankfully, these sandal selections will look awesome in your wardrobe.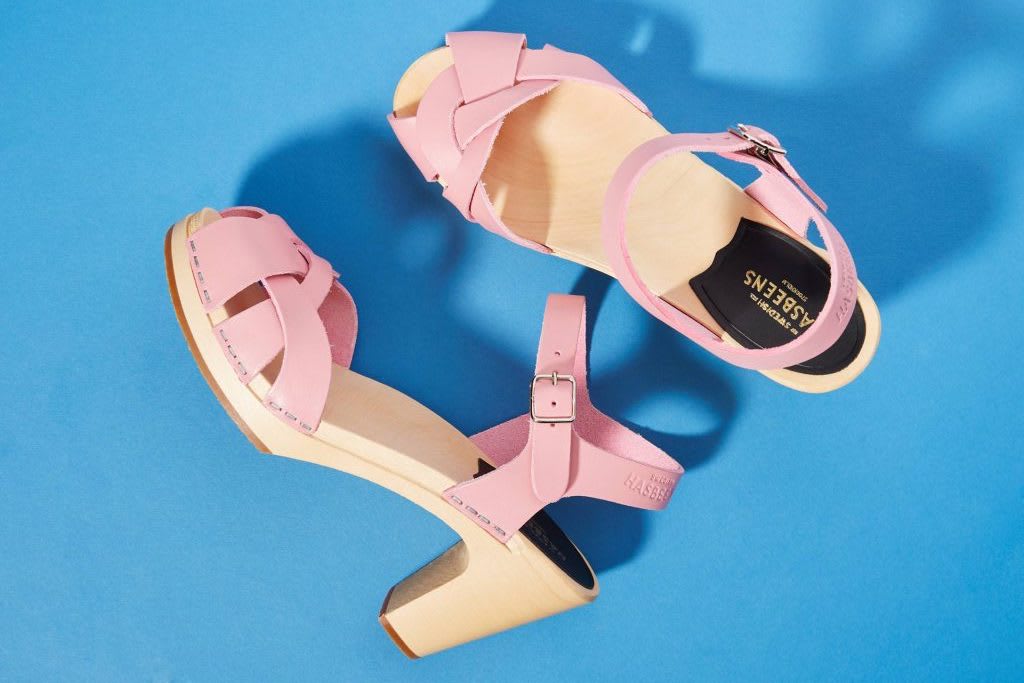 Summer sandals come in an array of options. Whether you're in need of a dressy look, something a little more casual or just a new addition to your summer wardrobe, the possibilities are endless and then some. We've put together the must have summer sandals for you to choose from, no matter what you're looking for when shopping for summer sandals in 2018. From the best Birkenstocks to braided pool slides, maxi sandals to leather flats, these are our favs and they're sure to become yours too!

For Braided and Upscale
These braided, slip-on pool sandals are perfect for the casual look that still speaks to your style. They'll stay securely on your feet and provide ultimate comfort, and pair well with everything from your favorite bikini to a comfy pair of shorts, a sundress or your favorite frock. You just can't go wrong with these must have summer sandals. 

For the Dressy Look
Did someone say summer wedding? These gorgeous summer sandals pair perfectly with both a floral maxi dress and a flirty mini. You'll have to hurry, though. These are a limited-edition option from the Nine West 40th Anniversary Capsule Collection (which may be why you might've thought these look a little bit familiar — the retro vintage look is totally inspired by formal affairs of a different decade). The padded insole and four-inch heels ensure you get both comfort and style!

For the Carrie Bradshaw Wannabe
I couldn't help but wonder… why is it so hard to shop for dressy summer sandals in 2018? Here to help all the Carrie Bradshaw fans, these leather, high block-heel sandals look like something you'd totally see in an episode of Sex and the City. Add these sandals to your summer wardrobe and wear them Memorial Day to Labor Day, the white the perfect fit for your most colorful sundresses. 

For the Unique Nature Lover
If you want something a bit more natural looking, but still with awesome style, these must have summer sandals might be right up your ally. The cork-inspired high heel summer sandals were crafted in Brazil and aren't made using cork at all — but rather, the finest leathers. The four-inch heel pairs perfectly with a buckled ankle strap, guaranteeing both comfort and stability. 

For the Casual Leather Lover
So you love the leather look, but hate the high heels? No worries! There are some summer sandals right up your alley as well. These slides are super comfy, created with cushioned leather, perfect for that long summer walk around the block. Plus, they come in four great colors, including blush, black, eggshell and teak. Pair these with your favorite pair of breezy linen pants the next time you head to brunch with your mother. 

For the One Demanding Comfort and Style
If you really, though, need comfort and style during a formal summer affair, be it a wedding, graduation or lawn party, go with these must have summer sandals. The cute bow knot accent makes them dressy enough to go with your go-to wedding dress, but the low, inch-and-a-half heel is comfortable enough that you can dance all night, or walk down the aisle as maid of honor without ever worrying about an embarrassing trip! Just keep these babies out of the rain to protect the suede top and lining.

Because Birkenstocks are Back
Don't let anyone say that Birkenstocks aren't making a comeback; these summer sandals are more in style than ever, and for good reason. They check all the right boxes for those searching for comfortable summer sandals in 2018. The classic fit forms to your feet and the shock-absorbing bottoms make even the longest city walks a breeze. Pair them with your fav shorts and casual top or tank, or even leggings and a tunic. 
For the 90s Gal
If you remember getting a Delia's catalogue in the mail with fondness, then these platform sandals are for you. The black Steve Madden shoes are perfectly designed to conjure up the best decade of your life, while still remaining on trend and stylish, even while you're searching for summer sandals in 2018, not 1998. Pair them with a slip dress if you want to get really in the spirit. 

For the Ugg Lover
Uggs aren't only for the winter. If you've been bemoaning the fact that all your fur-lined Uggs have been taking up space in your closet, rather than on the streets this summer, maybe invest in these Ugg leather slide sandals, perfect in a shimmery rose gold. The comfortable shoe sports a leather top and synthetic sole, with a heel that's just over an inch, so you can walk around campus in high style. 
For the One Who Needs a Little Boost
If you're thinking you look a little short in your swimsuit, pair your favorite bikini with these pool-ready slip sandals that also add a bit of lift to your height. Choose from black or pink and top off your outfit with a matching kimono, to hit the pool totally on trend and ready for the summer. Just keep the suede top away from your splashes!

For the One Who's High Fashion, All the Time
If you're looking for summer sandals in 2018 that are going to look high-end and upscale no matter what you wear them with, these are an awesome choice. The patent leather block heel sandals come in two shades — nude and black — and are the perfect height and style. They work great with not only dresses, but dress pants, jeans, dressy shorts and swim suits as well. There's nothing they can't do!

For High End Comfort
Another sandal choice that's a great combination of comfort and style, these white rubber flat sandals with metallic touches are a trendy option good with just about any kind of summer wear. Your wardrobe will thank you and you'll always have a go-to pair of summer sandals in 2018, perfect for any trip, from the best Florida beaches to the Jersey shore or California.

For Another Blast from the Past
If you want even more 80s and 90s goodness, you can't go wrong with these Doc Martens. The black faux leather makes a strong impression, whether you're sporting these summer sandals with a pair of slacks, some capris, shorts or even a maxi skirt. Plus, with the trusted durability of Doc Martens, you know these sandals will last for many more summers to come.

For the Comfortable Wedge Sandal
These leather, textured wedge sandals come in brown and black and look great with just about any of your summer wardrobe, but that's not the coolest part. The patented cushioned footbed works in flax seeds, of all things, so that when you're walking in your new fav pair of sandals (which, let's be real, will be these), you have the sensation of walking in sand, no matter how far you happen to be from the beloved beach this year. 
For the One Who Wants It All
These summer sandals truly have it all. An open top, a buckled slingback strap, a platform, suede… can you really ask for more? Pair with some capris, short shorts or a maxi skirt for a look of epic proportions. You can pick between blue and black, but the blue really definitely pops along with the white sole and braided bottoms. 

For the Playful, Fun One
For the playful, fun, flirty friend who loves a little pink, with cool textures and interesting materials — these summer sandals are a perfect pick. The unique design and pink braided leather make for a look no one else will have and the lime tree wooden heel is just as one of a kind. Inspired by the 70s but entirely appropriate for even the most modern of summer affairs, this is a hard summer sandal to pass up given its mix of fashion and beauty.

For the Minimalist
If you crave a cute sandal that's not too over the top, look no further. This summer wardrobe staple is just what you've been searching for. The white leather and dark brown sole make for an understated look that fits just about any outfit. Slip them on, on your way out the door, without a care in the world. Show off your new pedicure as you get compliments all day, whether you pair them with a maxi skirt, wide-bottom slacks or just your favorite pair of workout shorts to run down to the corner bodega. 

For the Vacation
These bright red, woven summer sandals are eye-catching and flashy… and the perfect thing to go with a flowy, but still short, white sundress while dining at an all inclusive vacation in Mexico. Too specific? Pair them with whatever your dream summer date might be and you have a great fit. The slip-on, three-inch heels from Dolce Vita feature a square toe for a 90s vibe, and a chic block heel. 

For the Gym-Goer
Lastly, make sure you're not neglecting your fitness wardrobe this summer with one of the top fitness fashions you need to try. Wear these leather slide sandals to yoga practice in the park, spin class after work or just to your bff's house to catch a movie. The super-casual sandals come in rose, pale blue and black, so you can pick the best color for your summer wardrobe, but why not just get all three? Trust us — you'll love it so much that you'll easily need more than just one.