Styled is powered by Vocal creators. You support
Angel Mann
by reading, sharing and tipping stories...
more
Styled is powered by Vocal.
Vocal is a platform that provides storytelling tools and engaged communities for writers, musicians, filmmakers, podcasters, and other creators to get discovered and fund their creativity.
How does Vocal work?
Creators share their stories on Vocal's communities. In return, creators earn money when they are tipped and when their stories are read.
How do I join Vocal?
Vocal welcomes creators of all shapes and sizes. Join for free and start creating.
To learn more about Vocal, visit our resources.
Show less
11 Best Sensory Jewelry Gifts
Autism/ADHD/Sensory Processing Gift Guide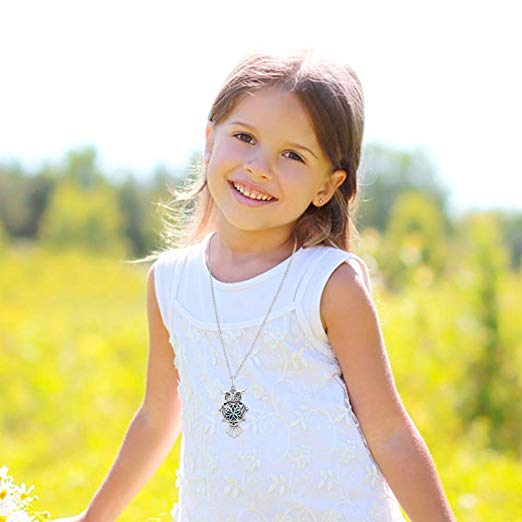 Do you have someone in your life who has autism, ADHD or Sensory Processing Disorder? Are you hoping to find them the perfect gift? As an autistic adult who also has ADHD, and as a sensory seeker, I can help you find the best gifts for everyone on your list. In this article, we'll talk about jewelry items that double as sensory items or fidget tools. 

Zipper Bracelet
As a person with a constant need to fidget, I'm always playing with the zippers on my jacket or sweatshirt. This is a package of unique friendship bracelets that are made out of zippers. You can zip and unzip them all day long. Give the whole package as a gift so your recipient can share them with his or her friends, or open the package and stick one in the stocking of every sensory seeker you know! 

Bendable Snake Necklace
I have this item and I love wearing it! It is fun to bend and twist. You can wear it as a necklace, but you can also fold it over a few times and wear it as a bracelet. If you fold it over a few times and then twist it, it becomes a bracelet with a unique design. Leave it loose, and it looks like you're wearing three or four bracelets! 
Spinner Ring
I love spinner rings! A spinner ring is a ring that not only looks like a cute piece of jewelry, but has two parts that spin around each other. This particular ring is made of sterling silver. As an added bonus, for each ring sold, the company donates a hot meal to a hungry child! 
Gear Necklace
This necklace looks cool, and is perfect for someone who loves things that move. The gears can be moved when you fidget with them. They make a quiet but satisfying clicking sound as they move. 
Chain Bracelet
This awesome bracelet looks like a bicycle chain, and is pleasantly bendy. It is made of stainless steel, which means it will last a long time! 
Spinner Windmill Necklace
I love this necklace because it is so colorful. Plus, it spins! This fun necklace would be perfect for kids or adults alike. 
Chewy Necklace
I'm not personally fond of chewing on things, but a lot of people with sensory needs, especially kids, do have that need to chew. When nothing else is available, they may chew on pencils, toys, their clothing, or even their skin. The Munchables company makes jewelry that is meant to be chewed on. It is stylish and fun looking, so it isn't an obvious sensory tool, but it is also free of BPA, lead and phthalates and has a pleasant, chewable texture. I love this little owl, but Munchables makes a whole bunch of different designs. 
Moveable Frog Ring
This isn't even marketed as a fidget ring, but the parts of the little frog move. It is sterling silver. Animal or reptile lovers will enjoy this! 
Mood Ring
Did you ever have a mood ring when you were young? They are so much fun! The color changes frequently. Supposedly it changes according to your mood, and there is a color chart included to let you know what mood each color represents. This is more of a subtle piece of sensory jewelry because you can't really fidget with it, but it is fun to look at. 
Reversible Sequin Bracelet
I bought one of these, and after seeing me wear it for a few days, my mom cautioned me not to wear it to work because I spend too much time fidgeting with it! These things are hypnotizing! Sometimes referred to as "mermaid sequins," the sequins change colors when you brush them with a finger. You can change the color of the whole bracelet, or make patterns or designs. It comes in lots of different colors! 
Diffuser Necklace
For the person who loves scents and responds positively to essential oils, here is a way for them to keep their favorite scents with them at all times! It is shaped like a little owl. It comes with "lava stones," which absorb essential oils. You simply put a few drops of your favorite essential oil on one of the stones, wait about 30 minutes for it to be absorbed completely, and blot off the extra oil. Then open the door on the little owl, pop the stone in, and close the door. Your favorite calming scent will now be with you all day long!  
There you have it... my top 11 picks for sensory jewelry. I know I'd love to get any one of these pieces of jewelry as a gift, so I imagine your sensory-seeking friend or family member will love them as well!